A Beautiful Golf Course That's Also Fun.
Willow Creek Golf Club Keeps the Golf Great Year-Round
From the moment you arrive at Willow Creek Golf Club, you know you're at a special golf club.
Designed by noted course architect Tom Jackson, this outstanding, 18-hole layout plays well for all skill levels. Willow Creek, with its manicured course conditions and challenging design, provides a fun, player-friendly experience for beginners. Advanced players will enjoy numerous risk-reward opportunities that are sure to provide an exciting, memorable golf experience.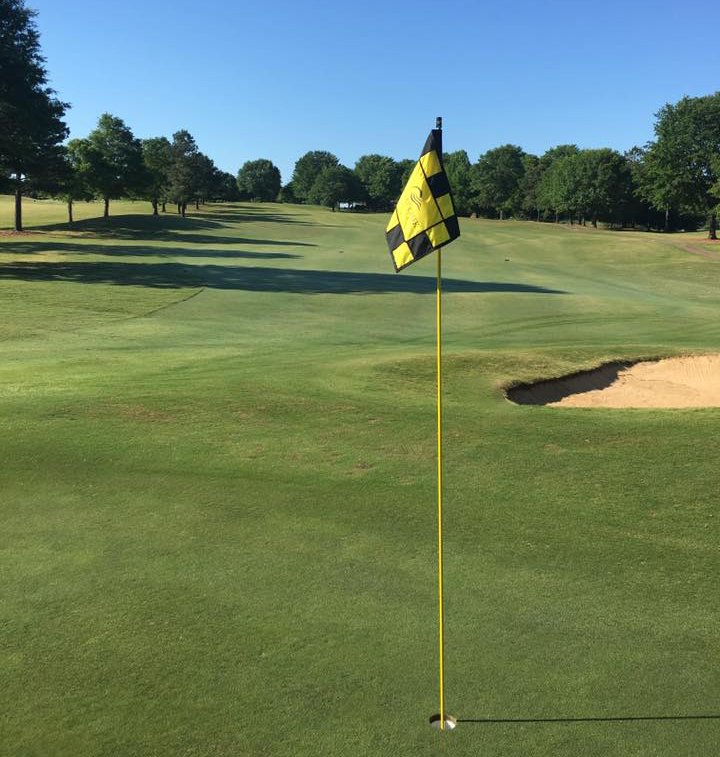 Conveniently located just minutes off I-85 between Greenville and Spartanburg, we're the perfect venue for your next round of golf. The spectacular golf course and friendly, knowledgeable staff will make your round at Willow Creek one to remember.
Players of all abilities will enjoy Willow Creek's Par-72, 6,890 yard championship layout.
---
THE COURSE IS GREAT, THE PEOPLE ARE TOO!
That goes for the people who work and play here! We're the area favorite of players of all skills and abilities, who all would agree that Willow Creek just might be the best-maintained area course. We'll only keep you from playing here when Mother Nature halts play – but we rebound quickly!
We're a favorite of Senior golfers as well outing participants. Members and non-members meld together, all with the thought of enjoying a great round of golf.
---
SCORECARD
We offer five sets of tees; check the scorecard below for yardages, ratings, and slopes for each set.
Please click on the hole numbers below to view an aerial flyover of each hole.
| | | | | | | | | | | |
| --- | --- | --- | --- | --- | --- | --- | --- | --- | --- | --- |
| Hole | 1 | 2 | 3 | 4 | 5 | 6 | 7 | 8 | 9 | Out |
| Gold | 555 | 416 | 190 | 369 | 523 | 405 | 194 | 385 | 392 | 3429 |
| Blue | 526 | 390 | 150 | 331 | 500 | 360 | 145 | 342 | 350 | 3094 |
| White | 491 | 356 | 135 | 284 | 484 | 345 | 133 | 342 | 337 | 2907 |
| Orange | 450 | 280 | 110 | 255 | 448 | 320 | 115 | 308 | 310 | 2596 |
| Red | 422 | 272 | 88 | 235 | 430 | 290 | 100 | 270 | 280 | 2387 |
| PAR | 5 | 4 | 3 | 4 | 5 | 4 | 3 | 4 | 4 | 36 |
| HCP | 6 | 12 | 18 | 14 | 4 | 10 | 16 | 8 | 2 | |
| | | | | | | | | | | | |
| --- | --- | --- | --- | --- | --- | --- | --- | --- | --- | --- | --- |
| Hole | 10 | 11 | 12 | 13 | 14 | 15 | 16 | 17 | 18 | In | Total |
| Gold | 405 | 362 | 191 | 408 | 382 | 587 | 204 | 411 | 511 | 3461 | 6890 |
| Blue | 376 | 335 | 165 | 383 | 353 | 553 | 165 | 391 | 484 | 3205 | 6299 |
| White | 360 | 325 | 155 | 340 | 314 | 524 | 155 | 365 | 467 | 3005 | 5912 |
| Orange | 327 | 307 | 135 | 331 | 300 | 495 | 130 | 320 | 450 | 2795 | 5391 |
| Red | 292 | 245 | 112 | 294 | 252 | 461 | 120 | 296 | 423 | 2495 | 4882 |
| PAR | 4 | 4 | 3 | 4 | 4 | 5 | 3 | 4 | 5 | 36 | 72 |
| HCP | 15 | 17 | 13 | 3 | 11 | 5 | 9 | 1 | 7 | | |
Course and Slope Ratings
Gold
71.8/140
Blue
69.7/134
White Men's
67.8/123
White Ladies'
72.6/134
Orange
66.5/122
Red
67.5/124